New DEA Report Has Lots of Goodies for Marijuana Reformers
|

0
---
A new report from the Drug Enforcement Administration (DEA) contains a number of tidbits that will make marijuana law reform supporters variously cheer, giggle or scratch their heads.
First off, the National Drug Threat Assessment, an annual publication, says it lists drugs "in ranking order based on the level of threat each drug presents." But it puts marijuana ahead of synthetic drugs and PCP.
Next up, noting that "80 percent of states have approved some form of medical marijuana," the document includes a helpful map showing just how badly DEA and other prohibitionists are losing the state-by-state political debate on cannabis:
The 148-page report, released on Wednesday, includes input from 1,105 state and local law enforcement agencies across the country. As The Washington Post's Chris Ingraham points out, the survey data those cops submitted to DEA shows that they don't see marijuana as a big threat relative to other drugs, despite the fact that most of the drug arrests their departments make are focused on cannabis:
In a very clear sign of the failure of widespread prohibition to keep drugs away from kids, the report admits that "marijuana use continues to exceed tobacco use" among high school students. Whereas the cartels and gangs that control the illegal marijuana market in 46 states don't ask customers for I.D., reform advocates argue, legal tobacco merchants are highly incentivized to make sure they people they sell to are of legal age lest they be fined or lose their lucrative business licenses.
The document also contains a sidebar on social media and lists hashtags like #420, #710, #BHO and#dabs:
Most importantly from a policy perspective, the report contains several passages showing the real impact that the marijuana law reform movement's success has had on DEA's ability to chop down cannabis plants and arrest and jail the people who grow them.
DEA-led cannabis eradication in California is down 64%, which the report says is partly caused by a "shift in enforcement priorities due to state-approved marijuana" laws.
"The number of arrests in domestically-produced marijuana investigations has also declined," DEA adds. "This decline in marijuana arrests, in particular those for domestic marijuana, and marijuana cases is due in part to state-approved marijuana measures."
The document also includes these charts showing a dramatic decline in the number of cannabis cultivation sites and plants DEA has been able eradicate over the past five years as more state marijuana laws have come online and as the national political climate has become much more opposed to outright prohibition and its enforcement:
And the report notes that "domestic legalization initiatives" could be cause of a big decline in the amount of marijuana being smuggled over the border from Mexico: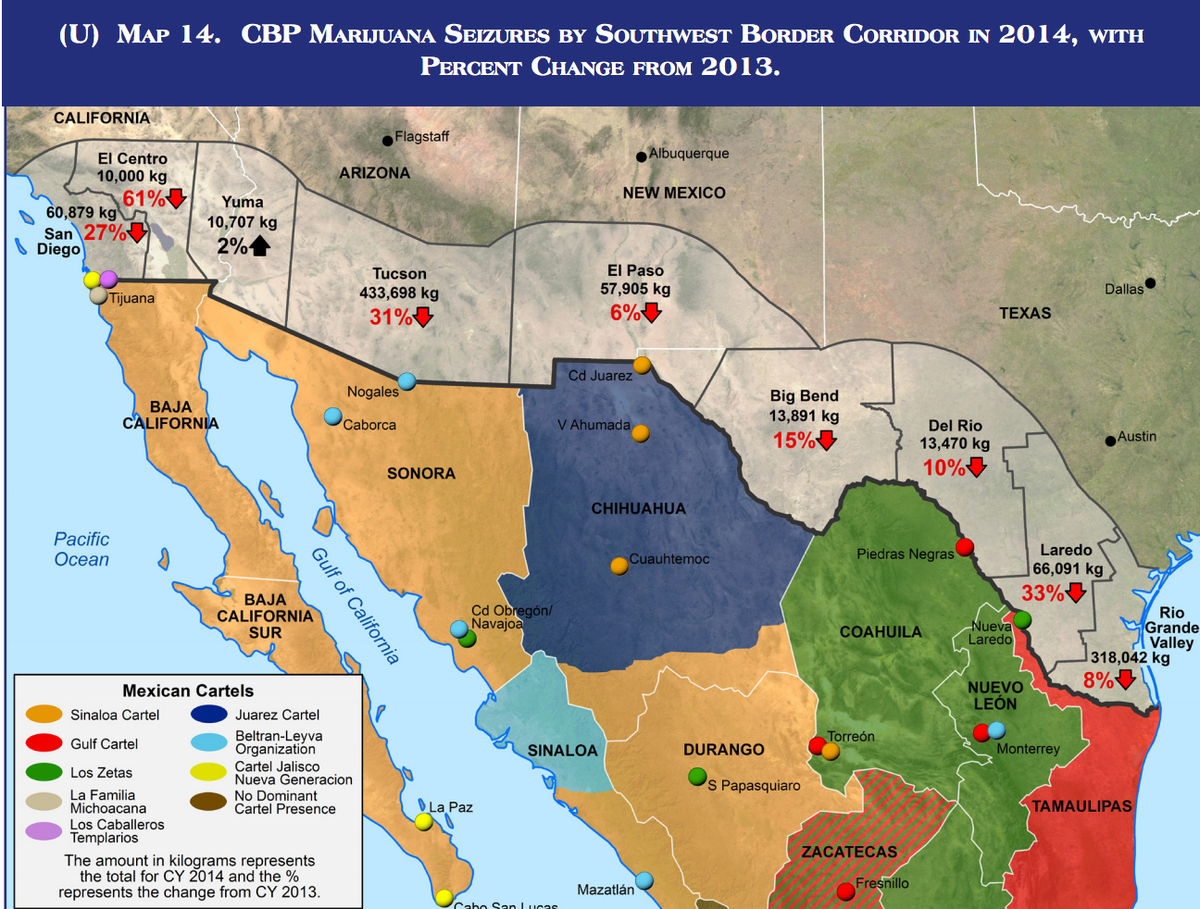 But make no mistake: Despite the damning evidence against prohibition's effectiveness, DEA isn't about to endorse legalization. The report even goes out of its way to make sure readers understand the agency doesn't think medical marijuana is an actual thing.
"When the term 'medical marijuana' is used in this publication, it is exclusively in reference to state-approved 'medical marijuana,'" a footnote says. "Marijuana is a Schedule I substance under the Controlled Substance Act with no accepted medical use in the
United States."
Separately, in a briefing with reporters on Wednesday, DEA Acting Administrator Chuck Rosenberg argued that medical marijuana is a "joke."
"What really bothers me is the notion that marijuana is also medicinal — because it's not," Rosenberg said. "We can have an intellectually honest debate about whether we should legalize something that is bad and dangerous, but don't call it medicine."
Despite the increasing latitude the Justice Department has given states to implement their own marijuana laws without much federal interference during President Obama's second term, it appears the drug warriors at DEA are still not happy about it.